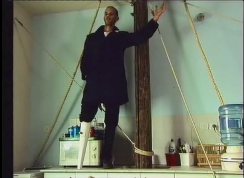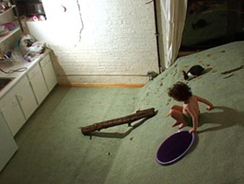 About the Work
Since the early 1990s, Guy Ben-Ner (Israeli, born 1969) has filmed a series of short videos starring himself and his family, often using the intimate spaces of their home as ad-hoc set, studio, and fantastical playroom. In works such as Moby Dick and Wild Boy, Ben-Ner has adapted classic films and novels into playful and profound investigations of his intertwined roles as artist and father. In doing so he exploits conventions of narrative film: he knows how to tell a story, to hook an audience, to keep them entertained. His videos also brim with witty cross-references not only to particular aspects of his sources but also to specific episodes and genres within the histories of cinema, video, and performance. Ben-Ner provides layered points of entry into his videos by combining such references with comedic bits of slapstick, an affectionate and humane sensibility, and a gently surreal visual style that includes both sophisticated cinematic devices and crafty, do-it-yourself elements.
Ben-Ner's adaptations entertain with their clever retellings of familiar tales, but that's only part of the story. His videos probe the frustrations, pleasures, and ongoing negotiations of individual identity that comprise relationships between parent and child. They also address the complexities of the creative process. Like any artist, Ben-Ner has to navigate constraints that might hinder his practice; here he ingeniously makes space for art within, rather than in spite of, the demands of day-to-day domesticity. By adapting classic sources in fresh and personal ways, he also models a central process within artistic development: investigating the art of prior generations and choosing some attributes to carry forward, some to abandon, and others to re-imagine on one's own terms.
Moby Dick
Moby Dick (2000) adapts Herman Melville's classic novel, a sprawling tale centered on Captain Ahab's quest to exact revenge against the great white whale Moby-Dick. Ben-Ner condenses this epic story into a brief single-channel video that he filmed in his apartment.
Wild Boy
Wild Boy (2004) can be shown in two forms: alone, or incorporated into an installation that re-creates a woodland set that the artist built in his kitchen, complete with a tree and a carpeted hill on which visitors may sit to watch the video.
Wild Boy adapts François Truffaut's film L'enfant sauvage (The Wild Child) (1970). That film was itself an adaptation: a cinematic version of the true story of a feral boy who was found living alone in the French countryside during the late eighteenth century. The wild child becomes the scientific subject, pupil, and ward of a young doctor, played in the film by Truffaut himself. Over the course of L'enfant sauvage, the doctor names the boy Victor and attempts to teach him norms of civilized behavior.
Truffaut's is the central source for Wild Boy, but Ben-Ner also draws on a range of other material. In Ben-Ner's version, the artist adopts the role of the doctor and his son Amir plays the wild boy. Ben-Ner names the boy Buster, which echoes Truffaut's Victor while also paying tribute to the silent film comedian Buster Keaton. Father and son work their way through experiments and lessons, some invented by Ben-Ner, some that recall scenes in the film, and others that quote from the histories of cinema and performance art.