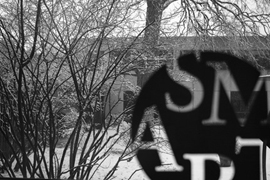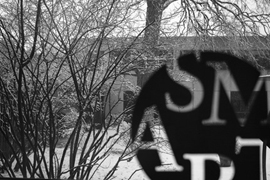 Smart Museum of Art, Winter 2008
Director's Welcome
Anthony Hirschel
Dana Feitler Director, Smart Museum of Art
It is now impossible to consider trends in contemporary art without confronting a dizzying array of new technologies employed by artists. Even as these new approaches to art-making are being assimilated and assessed, artists use them in ways that comment on the art and ideas that have come before, thus opening new frontiers while recalling iconic achievements. The wondrous alchemy of this fusion of old and new—strangely familiar yet bracingly, irrefutably unlike anything seen before—informs much great art and underlies the remarkable works included in this exhibition.
It is a pleasure for the Smart Museum of Art to present Adaptation: Video Installations by Ben-Ner, Herrera, Sullivan, and Sussman & The Rufus Corporation precisely because the works presented address this very issue: they transform source material drawn primarily from great works in other media in order to create powerful new art. The project is also entirely in keeping with the finest traditions of Smart Museum exhibitions, particularly those focusing on contemporary art. These have most often been thematic, casting new perspectives on developing trends. They have grown naturally out of the University of Chicago's interdisciplinary approach to complex ideas, and they make the University's intellectual resources available to the public in new forms. At the Smart, we feel it is our obligation and privilege to provide such portals between the University and other communities, for the benefit of those on campus, in the city of Chicago, and far beyond. Adaptation serves this role not only through the exhibition itself but also through its tour and this online publication.
A project such as this one can succeed only on the strength of the artists included in it. Their extraordinary creative contributions are responsible for the exhibition's genesis. The generosity with which they have continued the conversations with the Museum about Adaptation have infinitely enriched the project. We are deeply grateful.
As a coproducer of Eve Sussman & The Rufus Corporation's The Rape of the Sabine Women, the Smart Museum is proud to be the first U.S. museum to exhibit the magnificent completed work. We are also proud of another first: Arturo Herrera's wonderful Les Noces, his first work to incorporate moving images, will also have its U.S. premiere in Adaptation. Catherine Sullivan teaches at the University of Chicago, and thus we are particularly pleased that she taught a fall 2007 course on adaptation and collaborated with her students to form the group ARTV 24103 and collectively produce a new work for the exhibition. We are also proud to present Sullivan's majestic installation Triangle of Need. Guy Ben-Ner's Moby Dick and Wild Boy round out this exciting roster with work that is touching, funny, and sophisticated.
Many talented and generous people joined together in order to bring Adaptation successfully to fruition. We deeply appreciate the kind gestures of Larry and Marilyn Fields, who have lent The Rape of the Sabine Women to the exhibition and also provided financial assistance. Other supporters include the Feitler Family Fund, Susan and Lewis Manilow, Dirk Denison, and the Office of the Provost and the Arts Council, both of the University of Chicago. Their vital contributions are more fully documented in the credits section of this publication.
Words cannot adequately describe the role played by Stephanie Smith, the Smart Museum's Director of Collections and Exhibitions and Curator of Contemporary Art, who has steered so bold and intriguing a course for the Smart's contemporary art program over the last nine years. This exhibition is hers in every way, and she has carried it off with that distinctive mixture of intellectual rigor, organizational moxie, optimism, diplomacy, skilful collaboration, and boundless energy that is immediately recognizable to all who know her. I can only express my admiration and thanks for her efforts.
Such a large and complex project, however, represents the work of many, and this demanded intense teamwork over many months.
We thank the artists' gallerists for their assistance: Catherine Bastide, Joel Beck of Roebling Hall, Tom Heman and Janelle Reiring of Metro Pictures, Michael Jenkins, Meg Malloy, and Brent Sikkema of Sikkema Jenkins & Co., and Magda Sawon of Postmasters. We also owe special thanks to Catherine Mahoney and Daniel Teige of The Rufus Corporation.
The Museum was fortunate to work with an experienced and creative production consultant, Larry Smallwood, who provided expert guidance in navigating complicated technical issues, allowing the artists' vision to be beautifully realized. Chief Preparator Rudy Bernal, as he has for over thirty years at the Smart, managed a demanding installation with professionalism and good humor; he was aided by Ray Klemchuk and other members of the crew. Angela Steinmetz, Registrar for Loans and Exhibitions, has negotiated complex issues with her customary aplomb. Graduate student intern Dawna Schuld provided sterling research assistance. Karin Victoria, Director of Development and External Relations, and those who work with her in Development, Justin Glasson and Denise Goode, worked long and hard to make the project a success.
To realize this wonderful online publication, we have relied on the considerable talents and enthusiasm of our staff team—Melissa Holbert, Manager of New Media and Familiy Interpretation, C. J. Lind, Manager of Marketing and Public Relations, and Jessica Moss, Curatorial Assistant—who worked closely with Stephanie Smith. Jason Pickleman of JNL Design and Nicholas Gracilla of Neoteric Design are responsible for the site's creation and production. Arno Bosse, Director of Technology for the University's Humanities Division, has provided collegial support and facilitated Humanities' hosting of this site.
One advantage of this new breed of publication is the ability to continue to modify it as the exhibition is on view, creating a conversation about the ideas presented in the exhibition; in the past there would have been only a monologue. We encourage readers/visitors to contribute to the discussion forums established to foster this exchange. A number of authors connected to the University have agreed to contribute their own responses to the works in Adaptation, which will be posted weekly from March through April 2008, while the exhibition is on view at the Museum. Respondents include Nell Andrew, Darby English, Flaminia Gennari, Tom Gunning, Mark Hansen, Matthew Jackson, Eric Slauter, and Rebecca Zorach. We thank them for their willingness to participate, enriching the work of the Museum in this instance as they so often do in others.
We are also blessed to have many others on campus who have agreed to work with us on related programming. As noted above, Catherine Sullivan taught a course in the Department of Visual Arts in which she invited her students into the process of creation; the resulting work is included in the exhibition. A number of other courses will make use of the exhibition during its presentation at the Smart Museum.
In addition, many events at the University will draw upon and reinforce the exhibition's themes. We were delighted that there was an opportunity to collaborate with our neighbors at the Court Theatre, where Artistic Director Charles Newell is welcoming visitors to discuss the adaptation of classic theatrical texts for presentation to modern audiences: a process at the very heart of the Court's mission. Not to be outdone, typically remarkable University students have developed programming tied to the exhibition's themes. Stephan Raskauskas an intern at Lyric Opera of Chicago and a long-time front desk attendant at the Smart Museum, has organized the University of Chicago Cantata Collegium, which uses the talents of a number of other students including several who work alongside him at the Smart. The group will perform their adaptation of J. S. Bach's Coffee Cantata in period dress with costumes based on William Hogarth works in the Smart Museum's collection. The University's famous student film society, DOC Films, will present a related series of screenings. And there are many more programs; it is wonderful to work in an environment of such abundant creativity in which one idea can spark so many more.
Kristy Peterson, the Museum's Director of Education, is to be thanked and congratulated for having orchestrated such a wide-ranging and stimulating group of programs. She also has incorporated the exhibition into the Museum's acclaimed K–12 education programs through special projects such as a teacher workshop conducted by Guy Ben-Ner, a partnership with students from Gage Park High School, and a collaboration with Snow City Arts Foundation. Visitors to the Museum are invited to create their own adaptations of works in the Smart Musem's collection and submit them for possible presentation on a related Web page.
We hope that Adaptation: Video Installations by Ben-Ner, Herrera, Sullivan, and Sussman & The Rufus Corporation will break new ground in the consideration of a stimulating aspect of contemporary art. It is our privilege to share the exhibition, its programs, and this online publication with you.