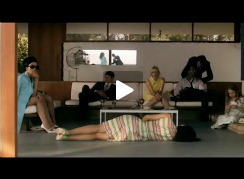 About the Artist
Eve Sussman
Sussman's work has been presented in exhibitions and installations at the American Academy, Rome, Italy; the 5th International Istanbul Biennial, Istanbul, Turkey; the Mysliborz Regional Museum, Mysliborz, Poland; and the Espace Paul Ricard, Paris, France; among other venues. Screenings of The Rape of the Sabine Women have been supported by the Hamburger Banhof, Berlin and Creative Time, New York (2007); the rough cut of the work was screened at the Nasher Museum, Duke University (2006). Sussman's 89 seconds at Alcázar (2004) has been shown in numerous international spaces including the Whitney Museum, New York; the Museum Picasso, Barcelona, the Union Gallery, London, UK; St. Johannes Evangelist-Kirche, Berlin, Germany; and The Reina Sofia, Madrid, Spain. Sussman is the recipient of numerous grants and fellowships, including the John Simon Guggenheim Foundation Grant, the Jerome Foundation Grant, and, recently, the J F Costopoulos Foundation Grant.
The Rufus Corporation
Founded in 2003 during production of 89 seconds at Alcázar, The Rufus Corporation is an ad hoc group of artists, dancers, actors, and musicians who, under the direction of Eve Sussman, create videos, photographs, and live events. For The Rape of the Sabine Women, founding collaborators Eve Sussman, Nesbitt Blaisdell, Helen Pickett, Annette Previtti, Walter Sipser, Claudia de Serpa Soares, Jeff Wood, Karen Young, and Sofie Zamchick traveled to Greece to begin rehearsals and were joined by Popi Alkouli-Troianou, Kostas Beveratos, Marilisa Chronea, Stergios Ioanou, Grayson Millwood, Katerina Oikonomopoulou, Rosa Prodromou, Antonis Spinoulos, Christos Syrmakezis, and Sotiris Tsakomidis to create the work in improvisation along with the film and television star Themis Bazaka, and acclaimed vocalist Savina Yannatou. Jonathan Bepler, who also scored 89 seconds at Alcázar, asked musicians Algis Kizys, Eric Hubel, Geoff Gersh, Craig Rodriguez, Scott Moore, and Bradford Reed to accompany the group to Greece for production, where they recorded the music live during the shoot. Photographers for the production were Benedikt Partenhiemer, Ricoh Gerbl, and Bobby Neel Adams.