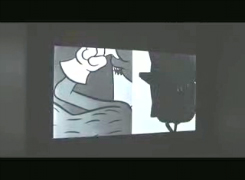 About the Work
Arturo Herrera (Venezuelan, born 1959) is known for his investigations into many media, including painting, sculpture, photography, and drawing. The work shown in Adaptation is his first to incorporate moving images. Herrera's practice is deeply informed by the history of modernist abstraction not only as manifested in static two-dimensional media but also within music and dance. He has combined these elements within Les Noces. This two-channel digital projection is based on Les Noces (The Wedding), a 1923 ballet that was scored by the composer Igor Stravinsky for the famed Ballet Russes. Here, Herrera has digitally reworked fragments of his own earlier works into an ever-shifting dance of abstract black-and-white images set to Stravinksy's music.
Les Noces
For Les Noces, Herrera started with 80 of his own prior works: photographs of fragments of his drawings and collages, which in turn include bits of imagery culled from sources like cartoons and comic books. He then worked with a computer programmer to develop software that draws randomly on this database of images to create an ever-changing sequence in response to the pitch of Stravinsky's music. This chance-based process intentionally invokes the mutable nature of performance: no dance is ever performed exactly the same way twice.
When one thinks of abstract images projected in tandem with a classic piece of music, Disney's famous film Fantasia (1940) might come to mind. Herrera nods instead to experimental films made by Stan Brakhage, Oscar Fischinger, and Len Lye—all of whom found unconventional ways to make moving images. Rather than starting simply with a piece of music, Herrera takes the whole of Les Noces' 1923 Parisian premiere—an iconic modern production—as the object of his adaptation.
In addition to Stravinsky's score, Herrera's Les Noces also pays tribute to the other central elements of the ballet. In its 1923 premiere with the Ballet Russes, Les Noces (The Wedding) featured stylized, almost mechanical movements choreographed by Bronislava Nijinska as well as stark sets and costumes designed by Natalia Goncharova. His choice to present two pairs of images, separated by the length of the gallery, also reinforces the central storyline of the original: the marriage of two people.
This version of Les Noces simultaneously re-invents and pays tribute to the core aesthetic and structural elements of the original ballet's choreography, costumes, stage design, and music. And while it could be considered faithful to its source, this installation extends Herrera's own multi-layered processes of collage and abstraction.
Herrera's Les Noces has its U.S. premiere at the Smart Museum. It is presented as a two-channel digital projection: a diptych in which the two images occupy opposite walls. (An initial six-channel version was shown at Ikon Gallery, Birmingham, U.K. in spring 2007.)